From Legacy Wiki
Clan Banner
Voted Best Clan in the Legacy 2009 Yearly Votes!
Finished 3rd in Awesome Hour 10!
Overall Clan Stats

| | |
| --- | --- |
| Leader | DMaster |
| Clan Bank | ??? |
| Total Members | ??? |
| Current Top 10 Clan Rank | ??? |
| Total Levels | ??? |
| Average Level | ??? |
| Private Forum Threads | ??? |
Clan Story
Once, long ago, in a god forsaken world, there was a master samurai that didn't know what fear meant. He was the best samurai who ever lived... No one could beat him.
His enemies started to attack in groups, even twenty men at once... None of them survives to talk about the fight.
One day, a new group of samurai warriors came to fight the master samurai. Two hundred samurai warriors were coming to face one man... The fight was a long one... But only a small few of the samurai warriors survived that fight. They saw that the master samurai was invincible... Not even a scratch on his body, and so they knelled before him asking him to become their master and to train them. He accepted and now they are one of the strongest clans around...They are DARK SAMURAI and their leader is the powerful DMaster.
They fight by the sword, they die by the sword!
Made By: TheWolf
The Original Clan Banner
2nd Generation Clan Banner
3rd Generation Clan Banner
4th Generation Clan Banner
Current Emperor

DMaster
Old Clan Ranks
Dark Samurai (a.k.a Dark Emperor) - Leader
Dark Shogun - Asst.Leader
Dark Daiymo - Recruiter Rank
Dark Merchant - FundsManager Rank
Dark Assassin - Rank 1
Dark Spy - Rank 2
Dark Wanderer - Rank 3
Dark Follower - Rank 4
Can We Still Join This Clan?
No, this clan has undergone a total redevelopment and is no longer open for invitations. Instead it is more a memorable clan for those Dark Samurai legends whom have achieved many great things within the clan whilst it was one of the top, most popular clans in the game. This clan is now only used for DMaster's leisure and is a place where he discusses new GFX ideas, game updates and other top secret game information with those legendary Dark Samurai's and those whom he considers to be friends.
Clan Sigs
http://img507.imageshack.us/img507/9646/dsbnu5.gif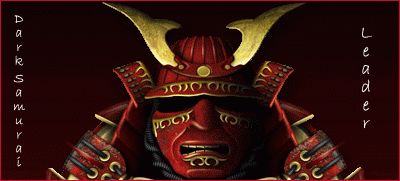 Past Dark Emperors
Since the creation and formation of the clan by the Dark Samurai DMaster, various followers who have proven themselves over time have been instructed to lead to clan to superiority. Here are the clan's past leaders:
D.S Legends
Here is a list of those brave dark samurai's who have gone out there way to make DS proud of them. Alongside their account name is also their role in which they served in Dark Samurai.
| | |
| --- | --- |
| Legend | Reason |
| DMaster | Clan Creator |
| Shak | Clan Supervisor/Clan Creator's Right Hand Man |
| k3nny | Clan Finance Director |
| Nemesis | Clan Supervisor |
| MSHOG | Clan Donator |
| Zlajo | Clan Donator/Supervisor |
| TheWolf | Clan Slogan & Story Creator |
| Sabotage | Clan Graphic Designer |
| BullZeye | Clan Graphic Designer |
| lloydbanks | Clan Supervisor |
| MasterK | Clan Donator |
| Taffy | Clan Supervisor |
| TGame | Clan Wiki Designer (with DMaster) |

Here is a list of the Staff Members who have been part of the clan:
Vader
base
Doddsyboi
DMaster
Fiction
Warum
Pascal
Shade