From Legacy Wiki
Every year during the month of December a few seasonal parts of the game are added for the holiday season. These parts of the game include a new player background, special outfits, and special items. The Advent Calender was released for the first time this year, special items included Deeg Candy, Toothbrush and a card from all of Legacy's Staff.
New Player Background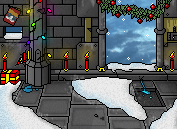 The background of each character in the character look is changed to a snow filled background.
Special Items
The following items can be purchased at Joe's Merchandise.